Post
New partnership! We shake hands with Helio Gaming to create SLOTTO Night Show
Mon, 4 Feb 2019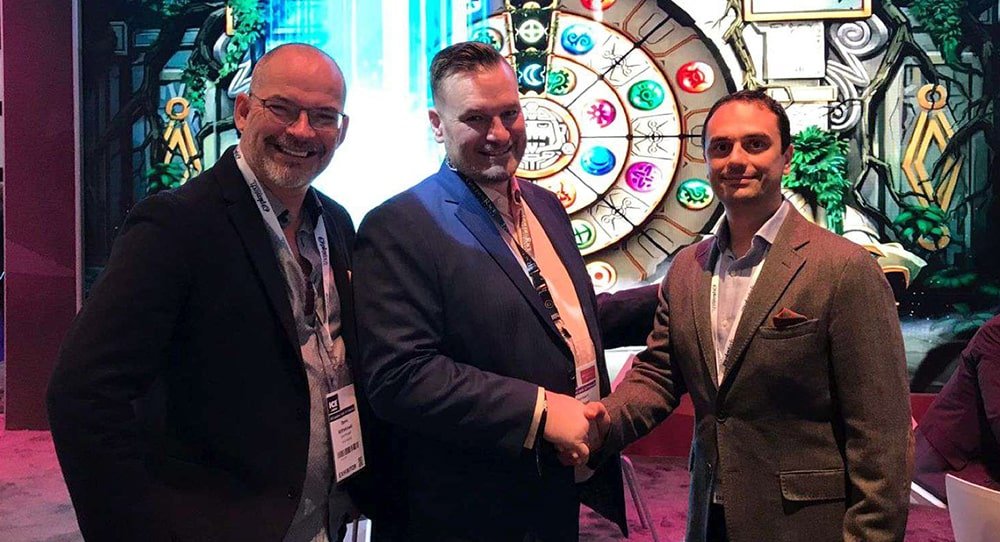 Today, we shake hands with Helio Gaming at ICE London 2019, to announce our partnership for the creation of a revolutionary game: SLOTTO Night Show.
"We are super excited to work with Helio Gaming on this ground-breaking concept, where cross-selling opportunities are facilitated by a high quality, low volatility game, while still providing the chance to win huge jackpots"
Norbert Mathies, Managing Director of Spinmatic Entertainment.
Developed for web and mobile, this thrilling slot machine is set to revolutionise the lottery and slot game worlds by merging them into one.
SLOTTO Night Show players will find themselves in a TV lottery atmosphere, where the wheels of the slot spin until lady luck hands out the combination that takes them to the Lottery bonus screen. There, they are set to win tickets to one or more big jackpot lotteries. Players can collect numerous tickets — like the famous Euromillions, the EuroJackpot, and Helio Gaming's global offering, including Lotto Hero with its hourly draw.
"Lotteries are an excellent way to provide big-win appeal to help with the acquisition, retention, and reactivation of players. Combining this with a slot provides a bridge between the casino player and the lottery offering, while our innovative lottery games return the favour by allowing operators to configure casino and sportsbook prizes as a result of lottery draws"
Helio Gaming's Sales Manager, Denis Wittebrood.
Helio Gaming is a platform provider that brings new concepts to the gaming industry with special focus on lottery. The company offers a complete set of lottery games with huge jackpots, including its flagship product Lotto Hero. It also develops custom-made RNG lottery games and supports betting on international lotteries and live draws for operators.
At Spinmatic, we are a leading provider of superior slots. Innovation is at the core of our business: we are constantly developing new games and applying advanced technologies to meet our customers' needs worldwide.
This ground-breaking partnership between our pioneering companies ensures a unique, engaging experience for players, while setting the course for future innovations in the exciting world of online gambling.