Post
Latam online casinos: An attractive market for the gambling industry
Jul 06, 2020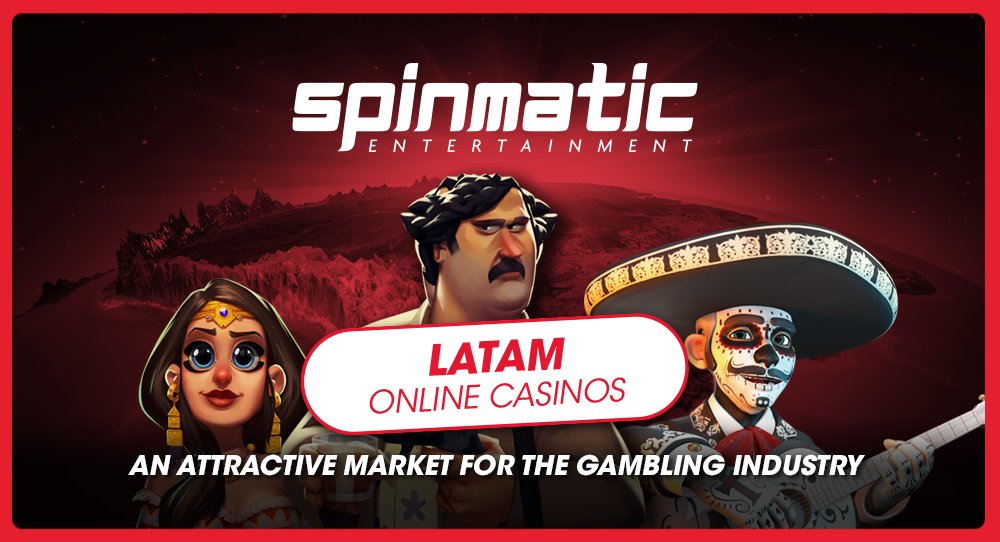 Latam online casinos: An attractive market for the gambling industry
Games of chance and gambling have a long history through the different centuries and continents, and Latin America is not an exception.
There is also a vast and varied tradition of casino games in this continent.
Casinos are a growing leisure activity for locals and an interesting tourist attraction for foreigners, not only in the all-powerful Las Vegas or Monaco, but also in Mexico, Colombia, Peru and Argentina, among other countries in the region.
Online gambling in LATAM
It could be said that online gaming started in Latin America. In fact, the first step for the birth of the first online casino was the signing of a Free Trade and Processing Act in Antigua and Barbuda in 1994, which allowed this new type of casinos.
The online betting sector has been increasing since then, working to engage players with interesting casino games such as slot machines, and fighting against any false information or misunderstanding.
For some time - and even nowadays in some countries- Latin America used outdated laws. Now, the governments are renewing the legal part of the online betting industry with the aims of banning illegal casinos and betting businesses, becoming ever-more attractive markets and also boosting their national budget with the money obtained from gambling taxes.
The whole sector is improving due to a variety of factors, like better technology; economic consolidation; a major Internet and mobile penetration (over the world's average), with 5G supporting and propelling mobile growth; more trustable payment methods; and, as we mentioned, a newer regulation for the betting sector.
Now, the region is one of the world leaders in online betting.
But not everything is said or done. Latin America is a market that still has a huge potential for the igaming industry and a very interesting place for online betting operators to watch and invest while regulation keeps spreading.
The most developed markets
So Latam is still a huge opportunity for online betting operators and suppliers but, in such a big region, some countries are more developed and others still don't have a regulation for online gambling.
Which is the exact situation and which markets are the most developed ones?
Colombia and Mexico
Colombia was the first Latin American country with a regulation exclusively for online gambling, and has around 16-17 online operators at this moment, selling around US$150 and US$160 millions per month.
It is a reference for all the other countries when talking about online betting legislation and regulation.
The country has been doing a great job since 2016, when the gaming authority ColJuegos started giving online gambling concessions.
Nowadays, Colombia is still one of the most proactive countries in addressing a good legal framework for online gambling.
México is the second market in revenue, as the country gives licenses to operate casinos, but not specifically online casinos. Operators are using these licenses to sublicense pages and be able to offer their products online.
There is not an approved regulation or legislation to operate online casinos.
Argentina and Perú
Argentina, in fact, has a very open regulation in some of its provinces, but they are a minority (8 out of 23) and even fewer are the ones with a regulation for operating online casinos.
The province of Buenos Aires is recently working on its own legal framework.
Culture itself is more open than in other countries when talking about gambling and this aspect, together with the country size, makes Argentina a market of huge potential.
Perú is a small country and has not any specific regulation for online betting purposes, but as it is not banned either, betting companies are operating and paying taxes according to the Dirección General de Juegos de Casino y Máquinas Tragamonedas.
Brazil and Costa Rica
Most of the online gaming operators focus on Brazil because of the size of the country and the huge population, but the situation there is still quite uncertain.
lt has a law from 2018, but everything is in its first steps. In fact, it has been only 6 months in which they have allowed international operators to offer their products in the country, but there still isn't a regulation to give licences to work in Brazil.
Costa Rica is all the opposite: a very small country that gives licences for companies to settle down in Costa Rica, but just allows them to offer their online betting platforms outside the country, without operating inside Costa Rican borders.
Online slots in LATAM
Slot machine games are one of the most played casino games in Latin America, both in retail and online. At Spinmatic we always have the needs of the specific customers in mind when creating and developing a storyline for a new game. Clients have different needs due to their geographical and cultural backgrounds, so we investigate and try to make our stories fit within the different likes of the gamblers depending on their country of origin.
Those are Latin American players' favourite Spinmatic video slots:
Plata o Plomo: With an intense animation and lots of action, this slot has become a favourite in Latam and around the world. The story?: Money laundering, illegal drugs, and a character against the law… Will El Patrón be able to escape from the police or will he end up in jail? See it for yourself by entering the exciting, yet dangerous world of Plata o Plomo! This is a Standard Video Slot game with 5 reels, 4 rows and 40 fixed paylines. The features of this game are: Moving Wild, Bonus Game (Plata o Plomo).
El Fuego: A puny dishwasher by day, an undefeated luchador by night. These are the two sides of Emilio, known in the wrestling arena as El Fuego. Will he continue his streak and defeat the greatest wrestlers of all times? Join Emilio and enjoy the loud atmosphere of Lucha Libre! El Fuego is a fierce slot game with Lucha Libre theme and 5 reels with 3 rows, 15 paylines, Wild with X2 Multiplier and Free Spin. All its features are prepared to ensure an inviting and pleasant game experience.
Lama Glama: In Ancient Peru, a mischievous llama wants to ruin the tribes's festival. Would it be possible for the chief's daughter to stop her pet from doing pranks? An entertaining slot game with Inca theme, 5 reels, 3 rows and 15 fixed paylines. A wild with multipliers and free spins are prepared to ensure an exciting and pleasant game experience.
Danza de los Muertos (Dance of the Dead): A game based on the Mexican traditional Day of the Dead where people welcome the souls of their loved ones. Dance with us at this celebration, craft little sugar skulls to place them on the altar and eat the traditional Mexican cake! "Danza de los Muertos" is a standard video slot with 5 reels, 3 rows and 20 fixed pay lines. The game features are Free Spins Scatter, Stacked Wild with Multiplier, and Wild Nudge During Free Spins.
Do you trust the possibilities of these markets for online gambling? Well, they do believe in themselves. That is why we are seeing so many changes and evolution in every market's laws.
We may see some great GGR numbers for LatAm very soon.