Post
GAMBLING IN ITALY: Casinos and slots in one of the most developed betting markets
May 26, 2020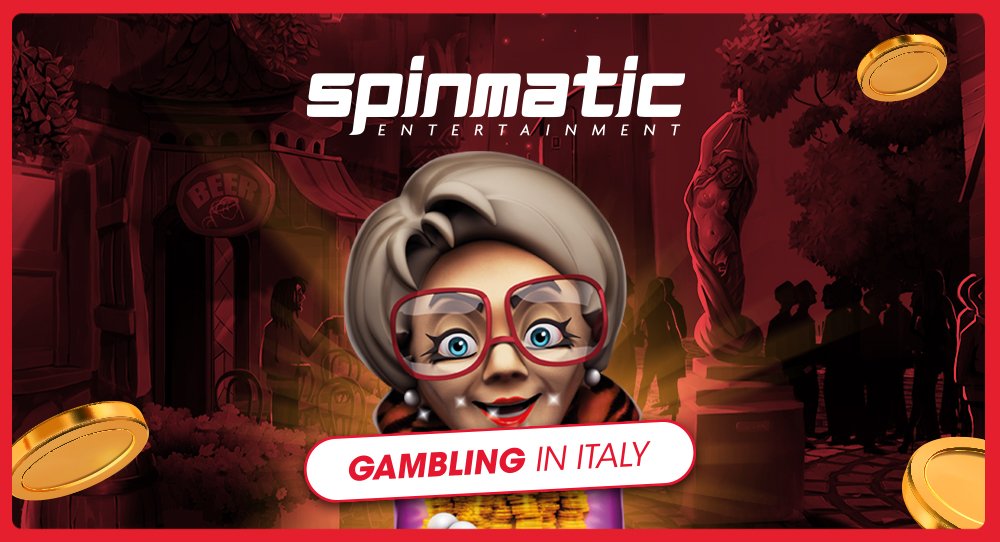 Italy and gambling have gone hand-in-hand since the Roman Empire. In fact, the word "casino" has an Italian origin, as well as Baccarat and Bingo, among other games.
We can see traces of this history nowadays, as there are more than 200 gambling websites in the country - mainly online casinos - and the retail estate is around 2-3,000 premises between casinos and sports betting parlours.
History of italian casinos
"Ridotto" opened in Venice in the 17th Century, more precisely in 1638, during the Carnival season. Although it wasn't called a "casino" yet, it was the first Italian and also the first European gambling house. When it closed in 1774, the popularity of these clubs started to grow and many appeared in the whole continent, especially during the 19th century.
It was not until the late 18th and early 19th century that the word casino ("small house") was officially established with the meaning it has today.
Casino di Venezia opened in 1930 and is the oldest gambling house in the world.
Land-based casinos are like a tradition for Italians, but online casinos still have a huge opportunity to grow, as this sector used to be blocked by a strong regulation. In the last years, since the opening of the laws, online casinos have observed an important increase.
Italian market: Developed and highly regulated
The Italian betting market is one of Europe's largest and most developed ones, and its gambling laws are considered quite liberal if we compare them with other countries in Europe.
But despite being legal, casinos, bets and gambling in Italy have several restrictions and a very complex regulatory framework, especially according to online businesses.
Gambling activities are allowed by the State only, which also regulates, controls and limits the exercise of any of them.
Licences are issued by the Amministrazione Autonoma dei Monopoli di Stato or Autonomous Administration of the State Monopolies, and the Agenzia delle Dogane e dei Monopoli (ADM) - Monopoly and Customs Agency - regulates, controls and supervises gaming, betting, lottery and social and skill arrangements, both in digital and land based. It also issues and manages any public tender process in the industry.
Some recent laws in 2018 and 2019 have changed the Italian betting landscape at several levels, such as:
Prohibition of any form of advertising and sponsorship related to gambling or betting
One-time tax collection (PREU) applicable to new slots and video lottery.
Income tax.
Tax revenue.
Among others.
Regulation on online casinos
Today, online betting in Italy is 100% legal.
But this has not always been the case. The country has made several changes in its legislation on the matter.
In fact, Italy used to ban the online betting industry, as a way to protect national operators from other European companies offering their services through the net without an Italian licence.
It wasn't until 2010 that a new law permitted foreign gambling operators to launch online real money games.
More recent amendments in 2011 permitted licences for poker and casino games, with the proliferation of a great number of licensed websites including foreign operators.
Currently, to meet every Italian law, Spinmatic is connected to the ADM, where our games are registered in its database and certified, making them available for Italian operators.
The slots empire
Since the legalisation of gambling in Italy, the betting industry has grown and spread its land-based shops and online platforms around the whole territory with great success and incredible numbers.
In 2017, for example, the cash inflow of the Italian gambling industry reached the amount of 102 billion euros.
Having a look at the different possible bets, the highest amount of money was spent on slot machines and video lottery terminals.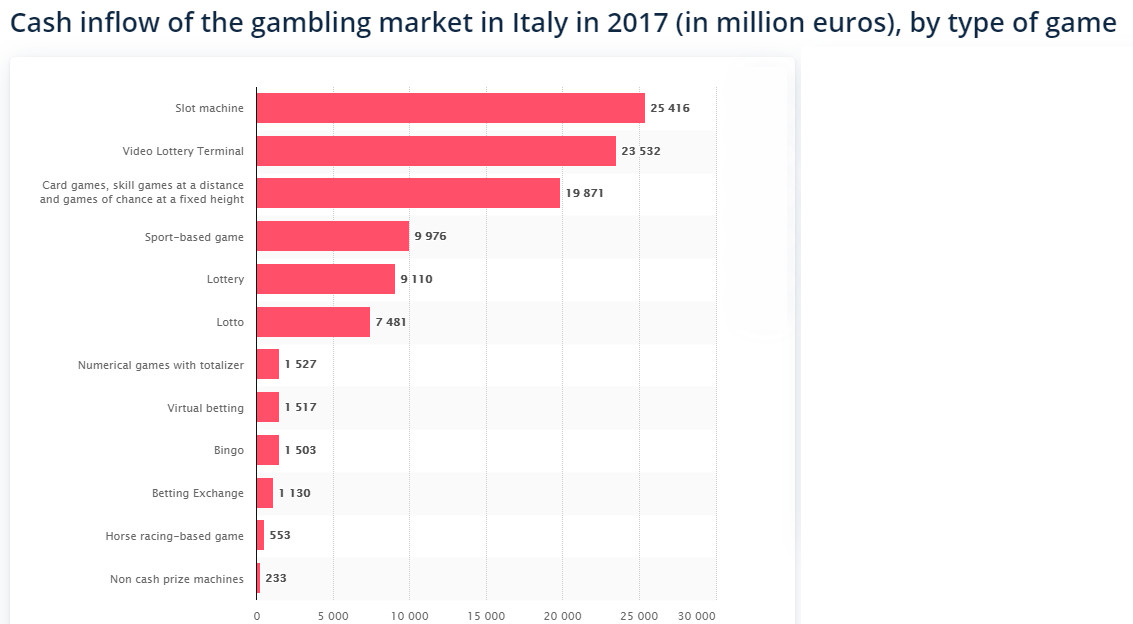 Italians love slots. And, at Spinmatic we apply the games to the needs of the customers by geographical and cultural background of their clients, who have different likes depending on the country of origin.
Back to tradition, Italian gamblers prefer video slots based on ancient cultures' gods, especially Greek, Rome and Egypt, such as Poseidon or Egyptian Stone, and classic themes as pirates, as well, like Calico Jack.
A world of adventures that resembles the beginning of the hidden gambling clubs.