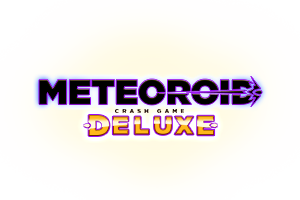 Coming soon
Beware! The Meteoroid is on its way!
Far more thrilling with its brand-new features!
Watching the night sky, shiny stars and meteor showers are all love and games until you find out one could actually crash and bring hell on earth. This time, nothing can prepare you for what's coming: Meteoroid Deluxe!
It is indeed the Meteoroid you know but with more spice and fire! The two new features will bring you prizes you can't even dream of!
Specifications
Game name
Meteoroid Deluxe
RTP
92.00%
Volatility
N/A
Supported platforms

Technical information

Meteoroid Deluxe is a fast-paced Crash game with a space theme. It is played by selecting a bet size and cashing out before the meteoroid crashes. The features of the game are Select a bet, Cash-out, Auto cash-out, Round History, Lobby Bets, Under/Over Market and Range Market.