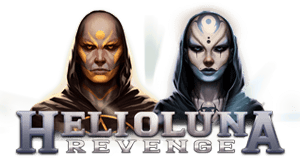 Coming soon
Are you in for revenge?
Before it is too late, Helio and Luna have understood the value of sibling loyalty. They were fighting each other to rule the earth but they finally realised that they were ruled by their anger.
But what is the source of this anger? Jealousy? Rivalry? Or is it their father Guvnor who pushed them to this fight? They agreed to a ceasefire and said "goodbye" to this planet.
Helio and Luna are returning to their realms now. Not because they are exhausted, but because they are furious! Whoever set them against each other should pay the price!
It is time to get revenge!
Get your share from this big retribution; win with Helio and Luna!
Specifications
Game name
Helioluna: Revenge
RTP
94.93%
Volatility
Low-Medium
Reels
10
Rows
5
Supported platforms

Technical information

Helio Luna: Revenge is a Win Both Ways Video Slot game with a Revenge theme and 5 lines and 3 Rows. The game features are Free Spin, Standard Wild, 2 Avatar Wilds, Transform and Collect.