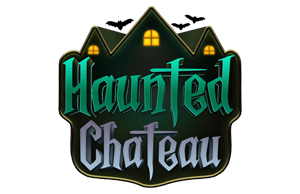 Coming soon
Can you survive the night?
Are you brave enough to spend the night in a Haunted Chateau with a group of treasure hunters?
If you are addicted to adrenaline, we are inviting you to a hunt.
Imagine an old ratty mansion, filled with peculiar treasures. For many decades, it sat empty and townsfolk thought it was completely haunted by evil spirits. A place with such reputation also attracted countless explorers from all around the world, including you and your team who have the courage, talent and the necessary tools for this daring endeavour.
So, take a deep breath, venture into the infamous manor, and gain the most valuable trinkets!
Special characteristic:
Haunted Chateau has 3 bonus games which are designed like different rooms of a haunted mansion. There are 3 doors and you have to choose one to enter a bonus game, like entering a new room. There is also a treasure hunter team of 4 characters who see one particular ghost child who resides in the house.
Specifications
Game name
Haunted Chateau
RTP
96.55%
Volatility
Medium-High
Paylines
9
Reels
5
Rows
3
Supported platforms

Technical information

Haunted Chateau is a Standard Video Slot game with the theme of a Treasure Hunt in a Haunted Chateau. It has 5 Reels, 3 Rows, and 9 paylines. The features of the game are Moving Wild and 3 Bonus Games.